If you follow me on Instagram or Facebook, you may have seen a few pictures pop up lately of past Living Solutions Interior Design client projects. This month, 5 years ago, Living Solutions Interior Design was born. Before that, I had worked at Ethan Allen for almost 7 years, and before that in flooring and for independent designers. At this time, 5 years ago, my second baby was just a few months old and my husband and I decided it was time to try this out on my own to allow for more flexibility in my schedule to be home with my family, but to still contribute financially and do what I loved.
After a bit of time, a co-worker and friend joined me on this adventure and we were partners for a few years before she went off to different endeavors. Starting out was a scary, but exciting time. In the beginning there wasn't a ton of business, but enough to keep me feeling like this was a good move and enough freedom to be around for my family.
Fast forward a few years and here we are. This little business has made it 5 years. And I'm really proud of the projects I've been a part of, the relationships/friendships I have made with new clients and those friendships and partnerships that have deepened with clients who I have known for years. I consider so many of them very dear friends and I am honored to be a part of their life journey.
I've discovered over the years, through my earlier career days and in my own business, that where we call home is so much more than just pretty paint colors and beautiful pieces of furniture. It's where memories are made. And memories are remembered. It's where new life is added and those who are no longer here with us are felt. It's where the biggest joys of life are celebrated and the toughest battles are fought. Home is much more than just 4 walls and pretty finishes. It's really where our hearts and souls come to rest, to restore, to feel at times unsettled but hopefully more often at peace. And I really, truly feel so honored that people trust me enough to allow me into that intimate space and help them create a home.
There have been many smaller projects that I have worked on and some others in the works to be photographed, but for today, I'll share a handful of past LSID projects to "celebrate" this milestone birthday of my little business.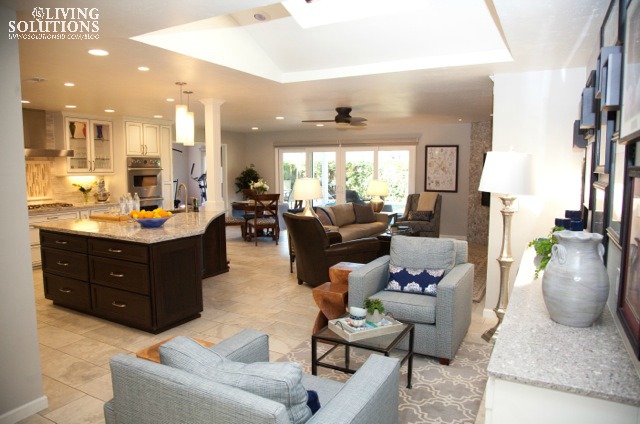 Foyer // Dining Room // Great Room
 Looking forward to what the next 5 years will bring for my little design business!