Newport, Rhode Island
Just recently, our little family headed to the east coast for a family vacation. The ultimate destination was Atlanta to celebrate my husband's cousin's wedding. Since we hadn't made it to the east coast in 5 years, we decided to try to hit all our old stomping grounds and meet up with friends along the way.
We started our trip in Newport, RI, where my husband and I first lived almost 9 years ago after we got married. We (I should say, I) literally moved the day after our wedding. My hubby, Jason, had moved in to our little first floor apartment on a street right between the beautiful Cliff Walk and the historical, well known mansions in Newport, a week before our wedding. He was starting SWOS (Surface Warfare Officer School) and got our little apartment all set up before heading back to California to be married. He set up our apartment with a lot of love and care, making sure it was comfortable for when I arrived. And I arrived with my new husband the day after our wedding. I "moved" across country with all my clothes in as many duffel bags as we could manage. We kept all our wedding presents in storage until we would return to California in about 6 months. We laughed on the plane ride this week about how I had cried the entire 5 hour flight to my new home. It was a lot to go from graduating college, living with my parents for the summer, getting married and then moving across the country! A bit of a transition!
For this trip, I had a whole list of things I wanted to see/eat/visit, and probably about half got checked off the list…drive by our old house, check…get Dunkin' Donuts, check…eat one (or maybe 4-I'm just saying) Ocean Coffee Roasters' oatmeal raisin chocolate chip cookie(s), check…walk through the town, check…visit with old friends, check…Things we didn't quite get accomplished: a walk along the Cliff Walk…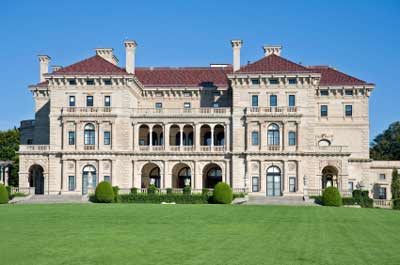 Maybe next time…
Being back in Newport, we wondered why we didn't do more while we were living there, like check out the incredibly old, historical cemeteries or attend the church where John F. Kennedy and Jackie were married, which was just down the street from where we lived. We are thinking maybe when we retire, we can rent a little house in Newport for 6 months or a year and experience all that we loved while we lived there at the very beginning of our life together and check out some of the "to dos" that were on our list but never got checked off.
I love all the history of the east coast and the colonial style of architecture. I feel right at home amidst the cobblestone streets, the old brick buildings, the quaint towns and the tree-lined roads. I love the majestic church steeples and the clapboard houses painted white with black shutters and barn red. It's a style that I will never tire of and one that just continues to exude character the longer it's been around.
Enjoy picturesque Newport, RI. Next up…Morristown, New Jersey and Annapolis, Maryland!