Happy Wednesday! We didn't forget about "Tuesday's Tip" day…we are just caught up in holiday decorating, as I'm sure many of you are. We'll be back with the "Renters' Series" soon!
I thought I'd share with you some pictures of our family room mantle. I've been busy with holiday crafting. All the spaces to decorate in our new home has me so excited about Christmas, but it's also a bit overwhelming. I used to haul out the holiday decoration crates and have everything up in one day. I don't know what it is about this year, but it's taking me much longer. (It could also be that I have two little ones that love to "help").
I actually only did one of our mantles as our living room is empty, so it seems to be pointless to decorate just a mantle in there and our master bedroom is still in a big upheaval. I went a bit more homey and cozy this year than I have in the past. Maybe because this house it just starting to feel more like home and I wanted to infuse a bit more coziness to it. It could also be that I saw this adorable
fabric garland idea
on the
Two Friends Two Cities
blog and decided I wanted to attempt it.
This is how it started.
I picked 6 fabrics that I liked-a couple "Christmas-ey" and a few others that weren't.
I cut them all up into strips and started tying them on thick twine.
And this is how it ended up.
I didn't even realize it went so well with our stockings until I pulled them out yesterday and hung them up! These are our stockings at our house, but our real stockings are at my mom and dad's house. They are all hand needlepointed by either my aunt or my mom and they are so special and beautiful. I'll have to share a post on them when we are up visiting. My oldest's is finally done this year, after 3 long years of hard work by my mom. It's so adorable and I can't wait to see it filled! The little one's stocking was started this year. It's such an amazing keepsake and family tradition that I cherish!
Speaking of stockings…just curious on what most of you with kids have labeled on your stockings. Do you have your name or "Mom" or "Dad"? We have mom and dad and my husband saw them yesterday and made a comment after we were reading off everyone's name on their stocking how "we should have our names and not just mom and dad on ours." What do you have on yours?
When we bought our Christmas tree they were selling fresh greenery garlands, so I picked one up and started the mantle decoration with that. I added some varying heights of candles sticks and candles and decided to stick with creamy white candles to keep it a bit lighter. Our fireplace is a bit oppressive with all the brick and wood so I am experimenting with ways to keep it feeling a bit lighter.
I added the fabric garland, the yarn wreaths that I made, our stocking holders and stockings and a few individual ornaments just stuck into place. I'm still deciding if I like the wreaths. I got the idea when I saw a yarn wreath on some blog somewhere showcasing a Sock Monkey party. We used that theme for my little guy's first birthday party…
This hung on our front door welcoming our guests and I thought it would be a cute idea to adapt to Christmas decor. I added some pinned fabric from the garland to make a little "flower" and added some buttons.
I tried layering the wreaths together and behind the candlesticks but the mantle just isn't that deep with the green garland on there too. So I varied the heights of the wreaths to give it a bit more visual interest.
So there you have it. My very own first mantle decoration in my own home! Stay tuned for some more holiday cheer throughout my home and Jill's in the coming days!
Linking up to Ten June's Mantle Link Party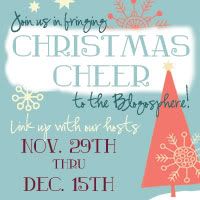 and to My Uncommon Slice of Suburbia Mantle Link Party