Just a quick post today about another little project that got checked off my list. Finally…
It was one of those large pieces leaning against the sliding glass door in the living room for quite some time that I wrote about here. And it finally got hung last week with a little help from my dad!
I first got the idea here, and loved the thought of having a place that could have fun countdowns and meaningful quotes for us to see first thing to start off our day/week.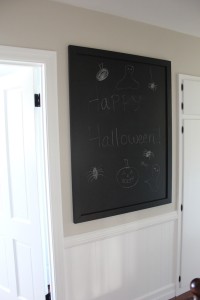 It hangs in our upstairs hall and at first I liked where it was, then thought I should have put it on another wall and now I'm liking where it is again. Good thing, cause I'm not moving it!
Hopefully it will be a great visual reminder for both the kids and the grown ups in this house when there are meaningful quotes, etc. on there and also a fun way to get excited for upcoming events!