I know it's been forever since I've posted, (thank you Gina for taking the blogging reins) but I'm back at the keyboard and I've got some great new things to share…
First things first, I have

FINALLY

finished my "Laundry Room Make Over". My laundry "room" is actually in my garage. A few months ago, while standing in front of the washing machine (as I usually am at 8:30pm) I looked through the doorway and saw my wonderful husband relaxing in our lovely living room. I thought to myself…"this isn't fair, he's in there and I'm out here in the ugly garage, again." That was the start of the Laundry Room Make Over.
Being as though we rent our home I didn't want to spend a fortune, but I felt that I deserved to fold towels in an area that makes me feel good. I've discussed this topic in our "Love Your Rental" series.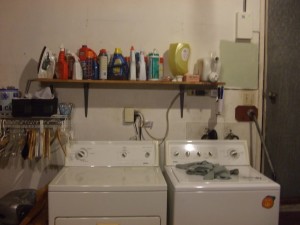 Not really sure I have to label this one, but this is the
BEFORE
AFTER
I was in desperate need of functioning storage. Before the make over I only had one shelf (one that I could barely reach) and another shelf/rack combo thing. After painting, my first purchase was the large white cabinet on the left. This gave me ample hidden storage. The next step was to cut and hang the shelves, thanks dad :) From there it was time to find functional pieces that would double as accessories. I really wanted to free up some space in my bathroom (another room with almost no storage) vanity.
These perfect lidded baskets allowed me to pull out some of the many things crammed into my bathroom cabinet.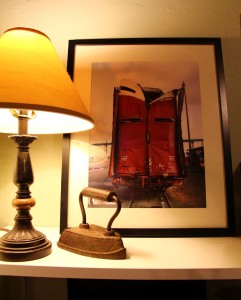 This awesome piece of photography was taken by a wonderful friend and incorporates the colors in my living room, which is the room directly off of the garage.
This pitcher doubles as a trash basket for my dryer lint, again pulling in some of the colors from my living room.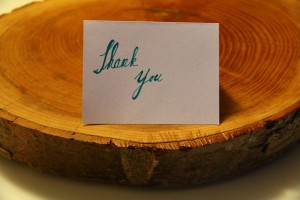 This great "Laundry" sign finishes off the space adding a touch of the rustic detail that I can't get enough of. It was purchased from a shop Weathered Ways found on etsy. It was made with love by a couple Ross & Christy. The wood was found … When the piece arrived, just a couple days after ordering it, it had this wonderful hand written thank you card. Those touches always get me. I love it!
Not only can I say that I absolutely love the look and storage in my new laundry room, but I am really pleased with the amount of money spent on the transformation.
The total cost for the "facelift" was about $300. ($25 in paint and about $35 for the shelving not shown below)
I love my new laundry room. I can't say that it has made me love doing laundry, but I can say that while standing in the garage folding towels I now LOVE what I'm looking at.