I'm totally in love with one of my most recent projects. I've worked with this client on several projects over the years, this time we worked on her master bedroom. The client requested that her room feel "cleaner & calmer". And can I just say, I think I did a pretty good job. As the saying goes, a picture speaks a thousand words. So, I get to the point and share some pics…


Before
The client did not want to paint, so the soft – calm color had to come from the new draperies. The room did have a very active feeling with the multiple warm patterns and the rigid lines from the poster bed with canopy bars.

We started off by choosing a much calmer color and fabric for the drapes. We removed the bed's canopy bars to open up the space. I also extended the drapery height and width. This allowed the fabric to be a soft large backdrop to the dramatic bed. This also made the room feel much more open, giving a sense of calm and peace. The lamps we're replaced with a matching pair of matching gourd table lamps from Ethan Allen. The symmetry of the lamps is yet another way to relax the room.
After
We wanted to make the space feel more peaceful, but did not want overlook the details that really give a room it's character. When designing the window treatments I added a smocking detail to the top of the drapes. You may recognize this detail from some of your summer dresses. With the summer as hot as it has been I feel like I've been living in mine.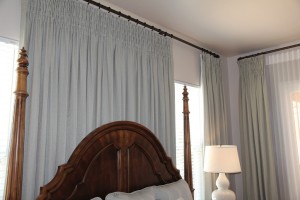 We also replaced the bedding with soft colors. I just love light colored linens. Such a clean feeling getting into a bed with bright white sheets.

Okay, I've got to show the room one more time before I let it go…
After –

Calm & Restful
Thanks for stopping by :)