A little while back I shared our laundry room.  After using this room every day, multiple times a day for the last two years, I knew I needed an extra shelf and a folding table.
I had seen this little bar table at Ikea and thought that it would make a great folding table. I didn't want anything obtrusive and out all the time because we had gotten rid of that in the old laundry room set up. But I did need something for folding other than the washer and dryer tops. So I picked this little guy up at Ikea and we hung it recently. It's funny because we are not the handiest of couples. In fact, we either end up laughing hysterically or cursing at each other when we do a home improvement project together! And by "home improvement project," yes, I am talking about hanging a shelf.
It folds down when not in use and easily folds out when I'm ready to use it. And even then, it's not really in the way because of the height we chose. Over on the left there, I have a gallery wall of messy photos of my kids! It's quite a little collection!

For the shelf, I went to our local lumber yard and they helped me find the best piece of wood for what I was needing and they cut it down to the length I needed free of charge. I painted it my standard  basic White from Dunn Edwards and purchased some brackets from Ikea. Another shelf hung!
I found these boxes up at HomeGoods and they hold all our extra buttons and little sewing kit and needles and extra thread. Functional and pretty!
And this little basket holds our iron. I didn't want to take up precious cabinet space!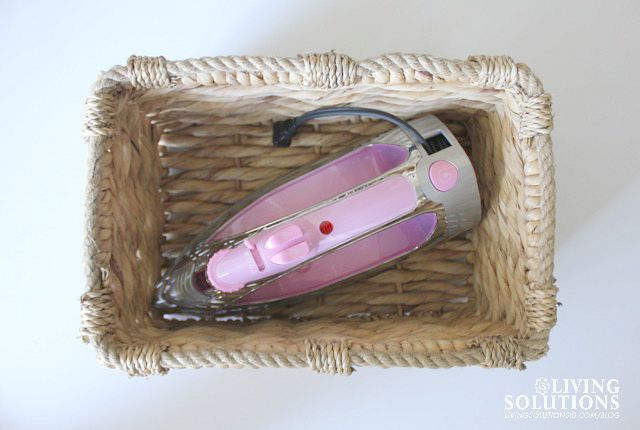 Even though the little folding table was made to be a dining bar table, it works great for folding purposes! These few inexpensive items have added a lot of function to our laundry room.