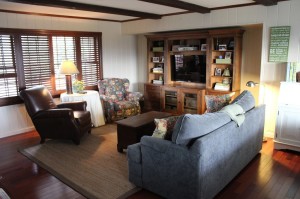 I was trying to lighten up the room a bit before we could switch out the wood shutter to a white one like it is now. I used some other pieces to lighten up the room and never got around to hanging the drapery panels.
However, I have them and they are too old to return, and I love them. So I plan on layering them over our white shutters in our den/office. It's like adding some jewelry to your cute outfit…it just adds another layer of detail, color, and texture to make the whole look complete.
I often get asked when suggesting a stationary drapery panel over clients' existing shutters if it is "ok" to use them over shutters. As if shutters are enough of a treatment and adding one more thing would put it over the top. To that, I always reply, "Of course!" Sure, shutters are beautiful and in many settings act as enough of a window treatment. But sometimes a window calls for a bit more detail and "ummph!"
I'm looking forward to getting the drapery rod installed. The panel has a rod pocket top so there is only the rod and the brackets…no rings needed. I'm having the panels hemmed a bit because they are too long, but I like that they'll add some more depth and color to the space.
Here are a few more photos of shutter and drapery panel inspiration…

via houzz
What do you think? Are you a fan of just a clean, simple shutter? Or do you like to go one step further with some drapery?