"Should I have it reupholstered?" We are not strangers to this question. We often have clients (and friends and family) ask us if they should purchase a new item or reupholster their existing piece of furniture. We usually ask a few questions to help make the decision a bit easier…
Does the piece have sentimental value? This can be a difficult question. Sentiment is not something that can be replace? However, are you giving too much value to a piece simply because you've had it forever?
Does it fit well in the space? Size, Proportion & Style (with a loose judgement on the style, this is possibly something that can be changed when reupholstered.
Is it comfortable? Keeping in mind that when reupholstered correctly the piece will basically be completely remade. New fabric, new foam & batting, sometimes even new springs if necessary.
Cost? Trying to save a few bucks is definitely not a reason to have a piece reupholstered. It will end up costing about the same as purchasing a new piece, give or take.
Below are some pictures of my most recent re upholstery job. The rocker is an antique Morris Rocking chair that the family has had for over 30 years. The cushions were replaced and re upholstered with a perfect fabric that tied in all the colors in the space. The wood frame was also refinished. The owner, and myself, we're thrilled to see it as beautiful as it was in it's glory days.
I took this picture in the shop moments before the transformation began
Obviously a Before shot!!!
If you look closely at this pic you can see that the stripes from the back cushion match up with the stripes on the seat cushion. This is a great example of excellent upholstery work.
Perfect Craftsmanship!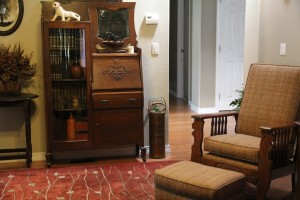 Here is a shot of the new pieces in there home. What a perfect team :)
We have had many jobs where the piece ends up being a much more impressive piece after re upholstery than it was when it was 1st purchased. This is all the work of a talented reupholster. Gina and I have worked with the same upholsterer for many many years. We trust him with every re upholstery job.
An exciting new fabric that coordinates or enhances the room's design and an experienced and talented craftsman. These are the keys to bringing a beautiful new life to that poor worn out piece.